Launching "Birmingham's Victorian & Edwardian Architects"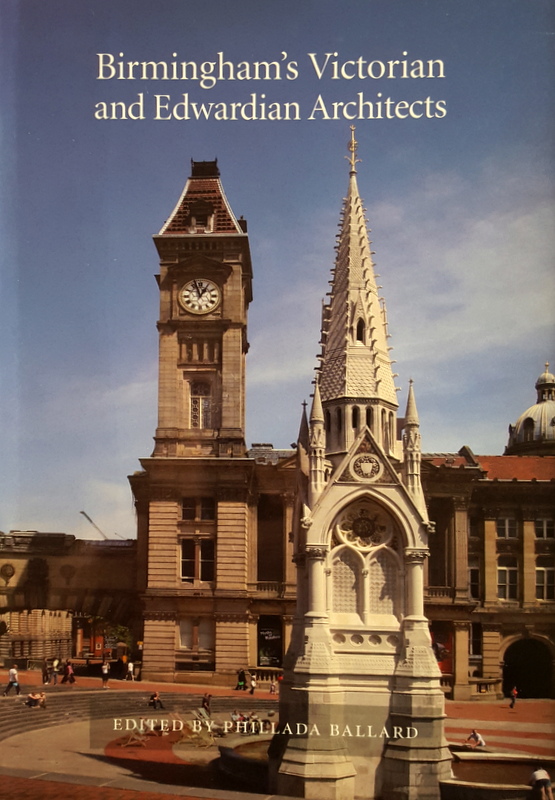 On Saturday 26th September 2009, the Birmingham & West Midlands Group of The Victorian Society launched it's new book "Birmingham's Victorian & Edwardian Architects" at a day symposium, held in the old Banking Hall of Wragge & Co, 55 Colmore Row, Birmingham. The Banking Hall was designed by H. R. Yeoville Thomason who has a chapter dedicated to him in the book.
Wragge & Co kindly made their premises available to the Society for this prestigious launch and the event was a complete sell out.
You can view Symposium Photos here >>>
Why our book was compiled
Whilst working on cases for the Society, it became apparent that Birmingham architecture was not considered very favourably by anyone in the London area. Birmingham also had good architects, especially towards the second half of the nineteenth century and the beginning of the twentieth, few of whom were known outside of the West Midlands. It seemed a good idea to give some provenance to our buildings by finding out more about our architects.
We found several people who had already researched various architects and others prepared to help. Phillada Ballard agreed to work as editor in 2001. Unfortunately, it took many more years than we anticipated, but after 8 years hard work and tenacity, the dream finally became a reality.
The contents of our book
The first part of the books consists of an introductory essay by the Editor about the factors in Victorian Birmingham which influenced the development of the architectural profession and describing the contents of the book. This is followed by illustrated essays on 26 individual architects of between 3,500 to 7,000 words each, depending on prominence and output and arranged chronologically. A summary of commissions of the architect follows each chapter. The illustrations come from four sources, the collections of the Birmingham Reference Library, contemporary architectural journals, contributor's photographs and modern photographs. Some pictures were taken by Robin Fryer, some by Jonathan Berg, of Birmingham Picture Library and some by the librarian photographer. The essays are referenced and there is an index and bibliography.
Contributors to the book are listed here:
Don Abbott, student at School of Education, University of Birmingham has written on F. B. Osborn and Essex Nichol and Goodman.
Peter Baird, retired lecturer at University of Birmingham, Social Science Department has written on Charles Edge and C. A. Edge.
Dr. Phillada Ballard, the Editor of the book. She is a social historian with several publications on Birmingham buildings and institutions and who has written on D. R. Hill.
Tim Bridges, formerly Collections Manager for Worcester City Museum, author of books on Churches of Worcestershire and the History of Worcester, currently Conservation Adviser to our Group has written on J. A. Chatwin.
Joanne Butler, Don Abbott, Christine Wood, students at School of Education, University of Birmingham have written on Cossins, Peacock and Bewley.
David Davidson, conservation architect for Hampstead Garden Village with an MA on C.E. Bateman has written about him.
Toni Demidowicz, researcher for Birmingham City Council Conservation Department has written on J.J.Bateman
Allun Evans has written on Mansell & Mansell.
Andy Foster, author of Birmingham, Pevsner Architectural Guide, published by Yale, Newhaven and London, (2005) has written on A.S. Dixon.
Remo Granelli, architect and architectural historian and lecturer, now retired has written on J.L.Ball and Thomas Rickman.
Michael Harrison, lecturer at Birmingham Institute of Art & Design, University of Central England, and author of book Bournville, (1999) has written on W. A. Harvey.
Stephen Hartland, Chairman of the Birmingham & West Midlands Group & member of the Casework Committee. Stephen has written on William Henry Ward.
Joe Holyoak, lecturer in architecture at Birmingham City University, architect and lecturer at many Birmingham Conferences and member of Birmingham Conservation Trust has written on Martin & Chamberlain.
Peter Leather, lecturer at School of Education, University of Birmingham has written about J. Bland.
Trevor Mitchell, working at English Heritage York, a former Architectural Advisor for the Victorian Society with an MA on WH Bidlake who has written about him.
Niky Rathbone, Joint Head of the Arts Department, Birmingham Library has written on Owen Parsons and with John Bassindale has written on Newton and Cheatle.
Barbara Shackley, Vice Chairman of the Victorian Society, Birmingham & West Midland Group has written on H. R. Yeoville Thomason, Crouch & Butler from Rudi Herbert's thesis, Frederick Martin from some research by David Low and Ewen Harper and J A Harper with Michael Harper from some research by Nicola Coxon.
Dr. Chris Upton, lecturer at Newman College of Further Education, author of books on the History of Birmingham and History of Wolverhampton and of regular articles in the Birmingham Post has written on James & Lister Lea.
Christine Wood has written on William deLacy Ahern.
Mary Worsfold, Chartered Surveyor, formerly Architectural Adviser to our Group and now Senior Conservation Officer in Birmingham has written on Buckland and Farmer.
Published by Oblong Creative Ltd in Hardback ISBN 978095565727 with 629 pages and 330 illustrations, it consists of an introductory essay by the Editor Dr Phillada Ballard and followed by 26 illustrated essays on individual architects and firms. The book can no longer be purchased from the publisher and is now only available from the Birmingham and West Midlands Group of the Victorian Society price £30 + P&P
Purchasing the Book
To purchase the book, please contact:
Helene Pursey
The Victorian Society
Birmingham and West Midlands
54 Prospect Road
Birmingham
B13 9TD

Tel: 0121 449 5186

E-mail: (JavaScript must be enabled to view this email address)