Winteringham School and School Board Offices, Grimsby, Lincolnshire
Charming former College of Art & Design and gabled offices in critical condition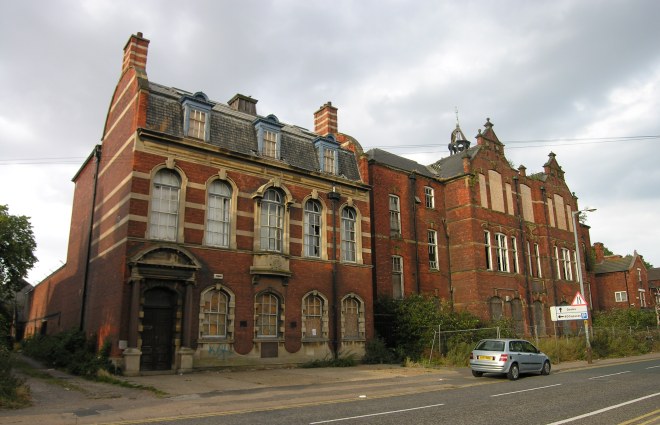 Two neighbouring buildings on Eleanor Street in Grimsby, Lincolnshire, the former Winteringham School, later Grimsby College of Art and Design, and the next door School Board Offices, have been included on the Victorian Society's list of the ten most endangered Victorian and Edwardian buildings in England and Wales.
Winteringham School's tall flat Flemish gables and cupola (on right) were opened to great acclaim in 1895. Six years later its architect HC Scaping was commissioned again to build the School Board Offices (to school's left), in a contrasting Edwardian classical style but with the same materials holding the two together.The School Board Offices are noticeably more lavish, with a charming bowed oriel window and segmental pedimented dormers.
The two Grade II-listed buildings are the heart of a notable group of educational and religious buildings built in the area around 1900 on land provided by the Heneage Estate.The school (most recently Grimsby College of Art and Design) and Education Department offices have been empty and deteriorating since the 1990s and have reached a critical stage.
The current deplorable state of the buildings demands urgent action.These are great buildings and part of Grimsby's proud architectural heritage.They need to be rescued fast.
16/10/2013